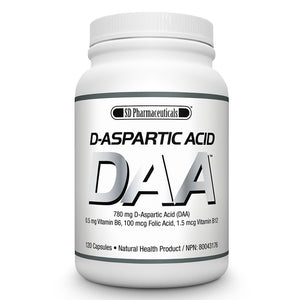 SD Pharmaceuticals D-ASPARTIC ACID (DAA)
The World's Most Proven Testosterone-Boosting Compound!

Based on the incredible results of a recent ground-breaking study conducted in Italy, D-Aspartic Acid (DAA) has caught the attention of nearly every supplement researcher on the planet right now! DAA is a physiological amino acid occurring principally in the pituitary gland and testes and has a vital role in the release and synthesis of luteinizing hormone (LH) and testosterone in humans!



KEY BENEFITS OF D-ASPARTIC ACID


1. Increase testosterone by an average of 42% in just 12 days!
2. Support increases in muscle growth, strength and recovery.
3. Increase libido!